The Slave Infirmary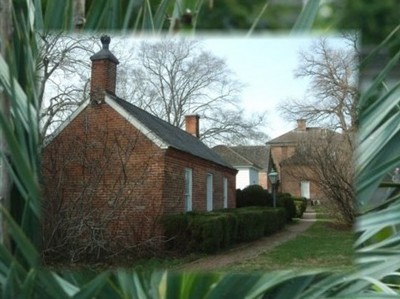 African-American Health Care
Prior to Emancipation
One of the unique features at Poplar Hill is the number of outbuildings that still exist on the grounds. Of those buildings, the "infirmary" is one of the most interesting and about which very little is known. An addition of several rooms have been added onto the original one-room structure.
The original brick portion of the infirmary was probably constructed in the 2nd quarter of the 19th century. Robert Darnall Sewall, owner of Poplar Hill, died in 1853. He left his estate to his nieces Susan and Ellen Daingerfield, both minors at the time, living with their father Henry Daingerfield in Alexandria, Va. The family relocated to Poplar Hill.
>At the time of his death, there were approximately 126 slaves listed on the personal inventory of Robert Darnall Sewall. By the time of the 1860 census, more than 160 slaves were recorded at Poplar Hill.
With such a large number of laborers, the infirmary would have served as a "hospital" or place where the medical needs of the African-American population would have been treated.
The infirmary is a part of the "yard area" of the main house. It is located in a row of buildings that includes the dairy/wash house and the smoke house. All three buildings form a row of structures located just outside of the interior kitchen of the main house. An icehouse and an early well were also located in this immediate area, but those structures no longer exist.
Cooks, laundresses, midwives, nurses, and house servants would have carried out their daily tasks in the yard area at Poplar Hill.
Web site developed and maintained
by Bianca P. Floyd, Museum Director
To report broken links send an email to director@poplarhillonhlk.com
Last update: 23 June, 2013