Horse boarding at Poplar Hill
$175 per month, per horse
Self-Care Boarding
Stall rentals for new boarders available.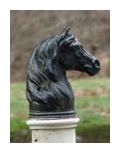 The John M. and Sara R. Walton Foundation offers beautiful grounds and boarding stables on its historic estate. If you are looking for a facility to board your horse, you'll find acres of nature trails, turnout fields, a covered arena, and much more all only 12 miles from the center of Washington, DC.
The horse farm has grass offers fields varying in size from 1 to 5 acres. Depending on the size of the field, turnout is limited to no more than 5 compatible horses to ensure lush grass for grazing. With three stable complexes spread out on the 130-acre horse farm, Poplar Hill is a tranquil environment.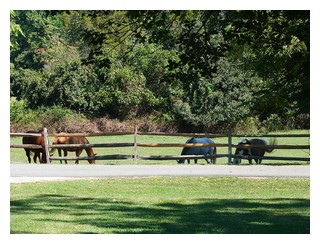 Our facilities include a covered and lighted sand floor arena, a sand round pen, a large grass jump arena and a second grass area for flatwork. There are covered wash racks, paved car parking and trailer parking. There is also ample hay and grain storage convenient to each stall and a variety of locked tack storage rooms. Stalls are lighted, and most are at least 11x11 feet. Manure is removed daily from the barn areas.
Perhaps our best feature is the extensive system of nature trails adjacent to the farm. With no public roads to cross, you can enjoy miles of wooded trails and open fields where there are several streams to ford. Rosaryville State Park, with its hunter trials course, is only a couple of miles away. Some boarders ride to the park regularly. Patuxent River and Cedarville State Parks are also only minutes away by vehicle. At the center of the farm, surrounded by its beautiful grounds, is the historic Georgian house, Poplar Hill. All of this, and more, only 12 miles from the center of Washington, DC!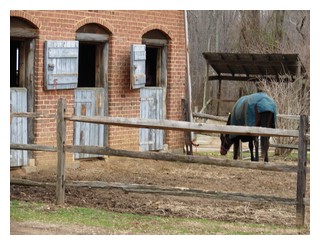 All horses are privately owned and managed. Horse boarding at Poplar Hill is a "self-care" service. There is no farm-operated training or riding program. Boarders are free to take lessons from their own instructors, contract their own hay and grain, and hire their own veterinarians and farriers. The daily care, stall cleaning, feeding and turnout of the horses are the responsibility of the owner, but many owners form feeding and work cooperatives with other boarders to produce workable schedules. This creates an economic alternative to the expense of full care stables.
There is a full-time farm manager on the premises who is responsible for field and stall assignments, maintenance of the fields and facilities. Annual vaccinations, coggins tests and bi-monthly wormings are required for each horse and are the responsibility of the horse owners.
We generally operate from a waiting list, but experience has shown time on the waiting list is generally not long. If you are interested in learning more about the horse boarding operation and prices, ,please send email message to poplarhillonhlk@gmail.com or call: 301-856-0358.
Send email to poplarhillonhlk@gmail.com
Or call 301-856-0358.

click this link!