The Carriage Collection at Poplar Hill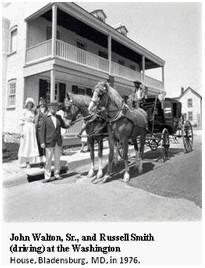 John M. Walton, Sr., had a passion for horses and extended that passion to driving and collecting horse drawn vehicles. His collection of sixteen restored vehicles is now available to visitors in his carriage house and stable. His Lordship's Kindness Horse Farm and the historic house form the perfect backdrop for the beautifully restored coaches and assorted buggies that were such an integral part of daily life a century ago.
The oldest carriage in the collection is a "Curtin Coach" from the early 1800s (c. 1820). Only the wealthiest Americans could own such vehicles. Producing a coach for the road required the master craftsman skills of a coachbuilder, a harness maker, and the specialized training of two or four horses. The expense did not stop there. A driver experienced in handling such horses and a cumbersome vehicle was also needed, along with at least one groom to provide daily care for the horses. The Curtain Coach was driven by Mr. Walton in a variety of events around Washington, including The National Bicentennial Parade and in many Prince George's County Bicentennial events.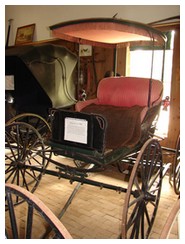 The collection contains a wide variety of special use carriages. There is a large "hunting break" to take hunters and their bird dogs to the field for sport shooting. Hunting dogs were carried in louvered compartments under the high, exposed seats where the hunters sat. Pulled by four horses, this was a very stylish vehicle, which could double for family outings in good weather. Another favorite is the butcher's delivery cart with its canvas walls, sliding side doors, tailgate and a glass windshield. There is even a two-seater sleigh and a racing sulky, similar to the one driven by Ulysses S. Grant through the streets of Washington when he was president.
As a group, these ready-to-drive vehicles provide a wonderful cross section of specialized horse-drawn vehicles from bygone America. The Carriage Museum is open to the public by appointment and during special events.

Send email to horseboarding@poplarhillonhlk.com
Or call 301-856-0358.