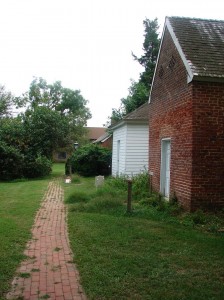 Along with the mansion at Poplar Hill on His Lordship's Kindness, a number of the original outbuildings still exist, among them are the smokehouse, the dairy, slaves infirmary, and dovecote. There is a visual path that leads from the old kitchen wing of the mansion past these outbuildings to a narrow dirt lane that leads to the site of the slave's quarters. The original buildings no longer exist. With the help of volunteers, students, and others, the Foundation began the work of clearing the path. The site is an area that has remained undisturbed.
Crossland High School students designed the landscape plan for the path. Students at Croom High School are creating the historic markers that will be placed in front of each out building and at locations where buildings no longer exist. Students from C. Elizabeth Reig Special School are planting flowers that will be installed along the path. The finished project will enable the foundation to offer a new feature in its tour program that focuses on the African-American experience.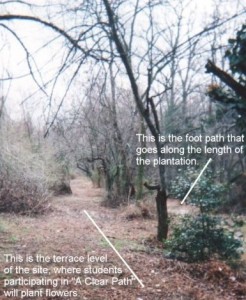 The development of the walking tour will include a new site map for the path, showing significant locations and a new brochure that will guide visitors along the tour. The walking tour will describe what a typical day would have been like for the slaves on Poplar Hill on His Lordship's Kindness. The completed walking tour will be presented at an end-of-the-year celebration in June 2004.